Greenhouse PLUGIN 8x14 silver
Set up guard
I want to be informed:
| | |
| --- | --- |
| Availability: | query |
| Guarantee: | 2 years |
Greenhouses series PLUGIN 8 ' are categorized HOBBY - in the Czech Republic assembled from Individual komponet. The greenhouses in the Czech Republic completed polycarbonate glazing. Polycarbonate glazing is inserted into the aluminum profiles. It is a modern perfect solution, Which Increased significantly the overall strength and stability of the Entire greenhouse. At the same time greatly Increased greenhouse and resistance against the gusts of wind and a snow load. The greenhouse is made of anodized aluminum, glass is made from heat-insulating double-wall polycarbonate multi-skin sheets thickness of 4 mm.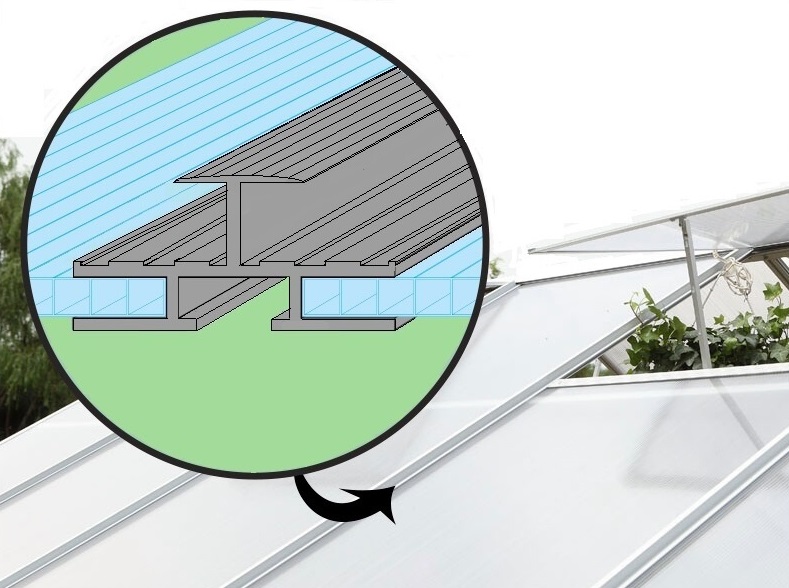 Polycarbonate - a high quality double-wall polycarbonate with UV filter (Become fragile, yellowing). It ENSURE maximum quality Produce glazing to bridge greenhouses in our company and we use cellular polycarbonate Marlon (producer Brett Martin - UK) or polycarbonate Sunlite (manufacturer Palram Europe - Germany). Both polycarbonates our company Officially imported to the Czech Republic as a regional partner of manufacturers and have them.chec Czech custom test reports (issued on LANIT PLAST, Ltd.). THUS it is one of the few greenhouses on the Czech market, Which are equipped with proven quality polycarbonate with Czech traceable certification (see link at the Czech certificates at the end of the page).


Greenhouse comes in two colors design - metallic silver (anodized aluminum) or green paint.

Greenhouse Delivered in two Lengths:
Width: w = 244 cm 
Height: 250 cm =
Length: d = 360 a 430 cm
The height of the side wall is 150 cm.
 
The contents of the package are hinged sliding door (W x hole = 90 x 173 cm) profiles, glazing, 4x roof ventilation window with manual opening, galvanized steel base, all fasteners. A greenhouse can be built Either on masonry (concrete, other) plinth or only on the base of galvanized sheet (included). The conservatory, you can buy a variety of high standard accessory - shelves, racks, automatic openers for okénkům proposition, thermometers, hygrometers, irrigation equipment, electric resistance heating of the soil.

Greenhouse Delivered as a kit with Detailed assembly instructions Czech (available for download at the bottom of this page). Packaged in a high quality paper cardboard.
Notice:
In the case of the use of natural manure (horse / cow manure slepičince, etc.), Chemical fertilizers, pesticides, herbicides and other chemicals over a longer or Shorter time to Induce corrosion of steel parts greenhouse (base, screws, etc.) .
Dimensions and weight:

LANITPLAST PLUGIN 8x12
parcel no. 1 (Design + Base) - 28 x 366 x 18 cm - 60 kg
package no. 2 (glass) - 60 x 125 x 12 cm - 24 kg

LANITPLAST PLUGIN 8x14
parcel no. 1 (Design + Base) - 28 x 435 x 18 cm - 75 kg
package no. 2 (glass) - 60 x 125 x 14 cm - 29 kg
Category: Aluminum Greenhouses
Colour: Silver
VAC. windows: 4
Built area: 10.49 m2
Width (external): 2.44 m
Length (outer): 4.30 m
Height (external) 2.50
Doors: Sliding hinged
Door Width: 0.9 m
Door height: 1.73 m
Anchoring glazing: glazing is inserted into the aluminum profiles
Construction material: anodized aluminum 1.5 mm
Glazing Material: cellular polycarbonate 4 mm (United Kingdom)
Glazing Material: cellular polycarbonate 4 mm
Structural warranty:
The warranty for glazing: 10 years on unbreakability hail
Manufacturer: LANIT PLAST
Base bundled: yes
Hobbytec - Equipment for your home and garden
Our goal is to provide you with a full range of all available high-quality solutions across the entire house and garden segment with a turnover of more than 500 mil. Ft. At the same time, as one of the few, we are able to view the best-selling selected products with our own eyes and compare them in the largest
showroom
- located just 2km from Říčany near Prague. All products can be conveniently purchased through this e-shop
www.hobbytec.com
Selected products are delivered including turnkey assembly. All assembly operations are carried out exclusively by our employees not only within the whole of the Czech Republic but also throughout the whole territory of Slovakia. More at
www.hobbytec.sk
Choose from products from world manufacturers from Japan, USA, Israel, Canada, Germany, Slovakia, Turkey and Poland. And the One Trade® private label.
100% coverage
The Czech Republic and the Slovak Republic
5x award reliable
company of the year