Greenhouse URANUS 11500 Glass 3 mm silver
Set up guard
I want to be informed:
| | |
| --- | --- |
| Availability: | query |
| Guarantee: | 2 years |
Greenhouses series URANUS are categorized PREMIUM - Greenhouse is made branded producer from Great Britain.The greenhouse is made of anodized aluminum, glass is made of toughened safety glass 3 mm thick. Glazing is in aluminum profiles anchored by steel clips.

Attention - Details and photos greenhouse Taken from polycarbonate versions Because They are Completely Identical.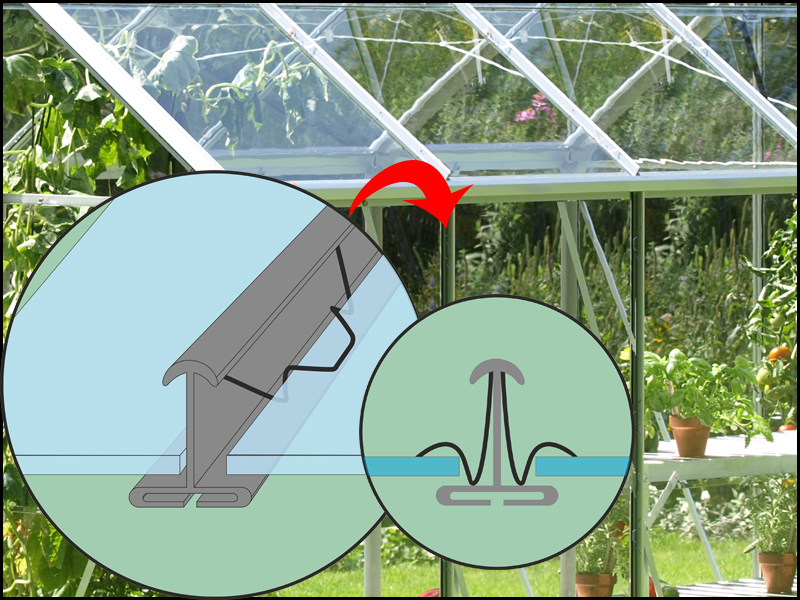 The big advantage of this model is transparency greenhouse glazing. From the windows of the house there is a view into a greenhouse, and you can admire the colors pěstovnaných plants.The house has a comfortable double doors wide, 1.22 cm.

Greenhouse comes in two colors design - metallic silver (anodized aluminum) or green lacquered.

Greenhouse Delivered in four sizes:
Width: w = 257 cm
Height: 246 cm v =
Length: d = 258 cm - 321 cm - 383 cm - 445 cm
The height of the side wall is 151 cm.

The contents of the package are hinged sliding door (W x opening = 122 x 191 cm) profiles, glazing, 4x roof ventilation window with manual, all fasteners. A greenhouse can be built Either on masonry (concrete, different) attached plinth or base of galvanized sheet. When building a retaining wall without buying a base recommended. The conservatory, you can buy a variety of high standard accessory - shelves, racks, additional ventilation roof and side windows, automatic openers for okénkům proposition, gutter kits, thermometers, hygrometers, irrigation equipment, electric resistance heating of the soil.

Greenhouse Delivered as a kit with Detailed assembly instructions. Packaged in a paper carton. Glazing is packed in a wooden crate irreversible.

Notice:
If you Intend to build a brick or concrete walls, and Brings games to purchase a greenhouse and after installation of the steel base (or greenhouse design). Reported greenhouse dimensions are Within the outer dimensions of the greenhouse and can NOT BE USED for the assessment and construction of retaining walls.

Videos (URANUS building greenhouses with polycarbonate glazing)







Specifications:
Category: Aluminum Greenhouses
Colour: Silver
VAC. windows: 4
Built area: 11.44 m2
Width (outside) 2.57
Length (exterior): 4.45 m
Height (external): 2.46
Doors: dual sliding
Door Width: 1.22 m
Door height: 1.91 m
Anchoring glazing: Steel Fasteners
Construction material: anodized aluminum power 1.2 mm
Glazing Material: Tempered glass 3 mm
Structural warranty: 15 years on selected properties AL construction
The warranty for glazing:
Base bundled: yes, as a gift
Glazing Material:
Hobbytec - Equipment for your home and garden
Our goal is to provide you with a full range of all available high-quality solutions across the entire house and garden segment with a turnover of more than 500 mil. Ft. At the same time, as one of the few, we are able to view the best-selling selected products with our own eyes and compare them in the largest
showroom
- located just 2km from Říčany near Prague. All products can be conveniently purchased through this e-shop
www.hobbytec.com
Selected products are delivered including turnkey assembly. All assembly operations are carried out exclusively by our employees not only within the whole of the Czech Republic but also throughout the whole territory of Slovakia. More at
www.hobbytec.sk
Choose from products from world manufacturers from Japan, USA, Israel, Canada, Germany, Slovakia, Turkey and Poland. And the One Trade® private label.
100% coverage
The Czech Republic and the Slovak Republic
5x award reliable
company of the year